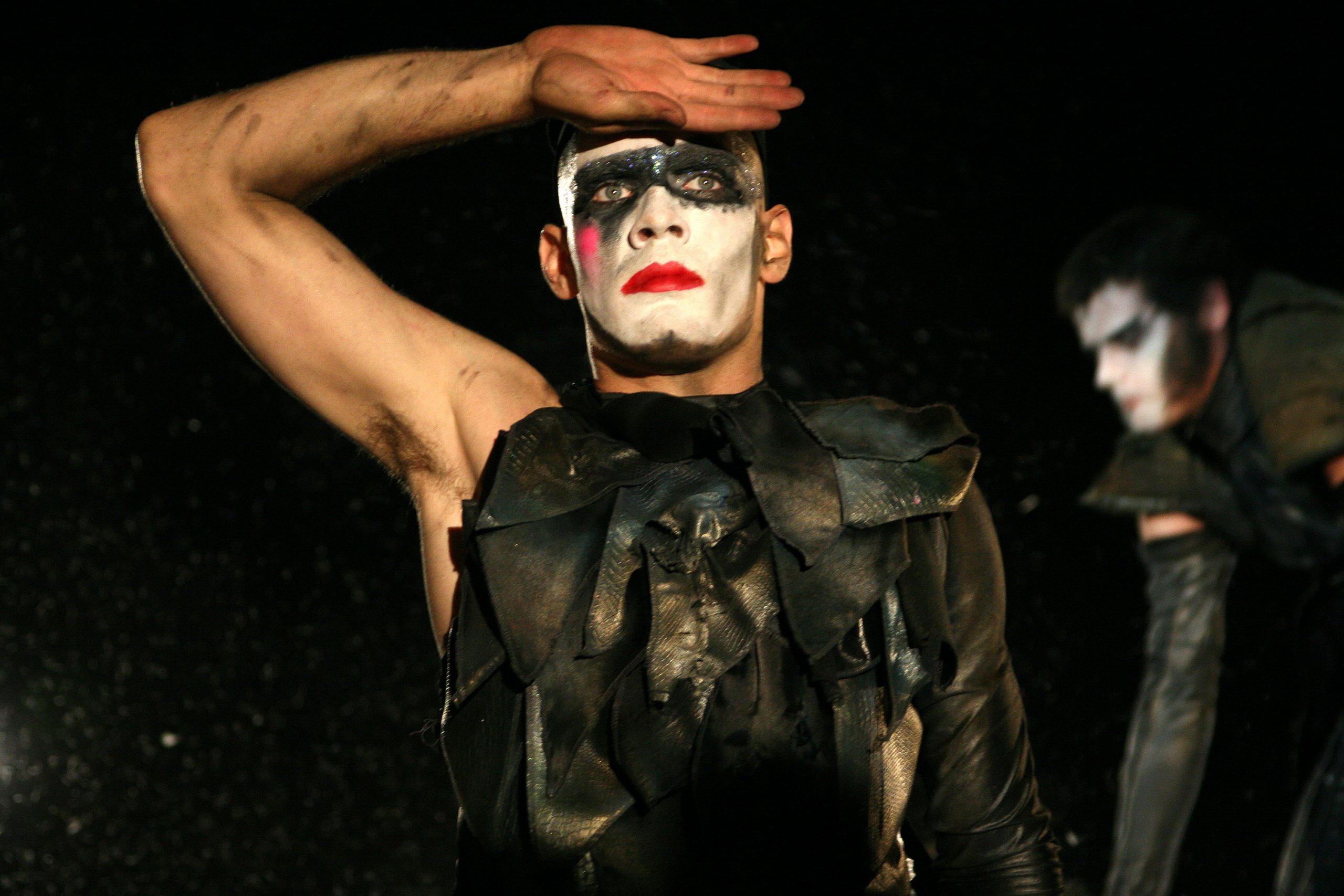 Salto Mortale | Premiere: 2008, Performing Arts Centre, Tel Aviv | In collaboration with Teatr Strefa Ciszy, Poland.
Salto Mortale is a dark circus act for six pianos and twelve performers. Salto Mortale is a fantastic funeral procession, based on a true story of hundreds of pianos, which were left on a lake shore by soldiers after looting a seized city in Poland, upon the entry of the Russian army at the end of World War II.  According to some witnesses, these abandoned symbols of classical art, were left by that lake shore to decay, until they crumbled down over long years, taking with them the heavy burden of war memories, status, romanticism and culture.
Relying on that image, Salto Mortale suggests a succession of moving visual images, conducted by a wonderfully morbid circus troupe, that reconstruct, play with and finally decompose the concept and form of the piano.
Screen play: Teatr Strefa Ciszy | Direction: Idit Herman, Adam Ziajski | Original cast: Grzegorz Ciemnoczołowski, Zohar Cohen, Michal Gil, Takanori Kawaharada, Jonatan Kunda, Lee Meir, Dominika Olchowy, Alon Schwabe, Artur Sosen Klimaszewski, Julian Pęksa, Przemysław Prasnowski, Adam Wojda | Set design: Piotr Kamiński, Adam Wojda | Music: Artur Sosen Klimaszewski | Costume designer: MIXER, Poznan | Light design: Assi Gottesman, Piotr Kamiński | Co-production: The Adam Mickiewicz Institute and Festival MALTA, Poland | Salto Mortale is an international co-production of Zone of Silence Theater form Poznan and Clipa Theater, created as a part of the Polish Year celebrations in Israel