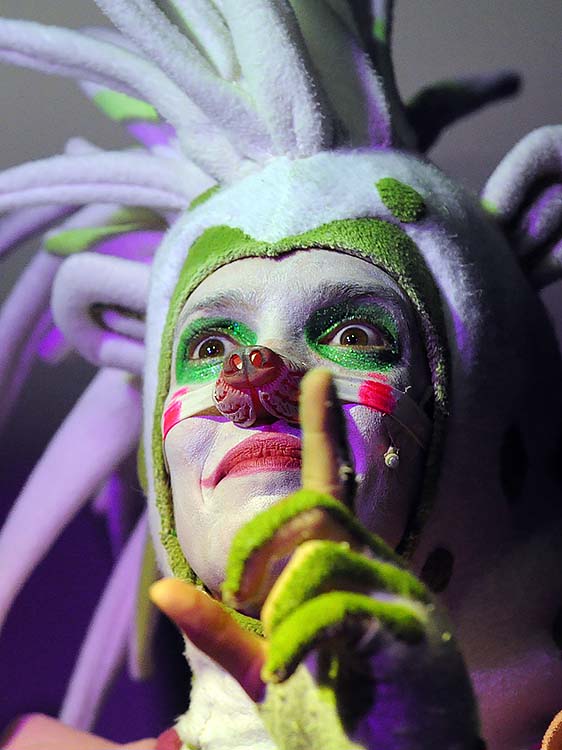 Lola's Song | Premiere: 2008, Clipa Theater, Tel-Aviv
"A successful combination of actors, sets, puppetry, shadow theater, music and dance… highly recommended". (Miryam Kutz, Yediot Aharonot)
Lola the Hyena and has a thick neck, sharp teeth, strange legs and a prickly, spotted fur. All the other animals run away from her. "Don't be scared!", She tries telling them, but instead produces a frightening laughter, the hyena's laughter. Lola has the voice of an angel and a song no-one's heard before. Will she ever be able to find a friend?
After five years of great success with "What up with Shabtai?", Clipa Theater has now come out with a new children's' show: "Lola's Song", suitable for age 3-7.
"Lola's song" is the newest collaboration of Clipa with Orit Bergman, writer and illustrator. The show was born out of love for children and by listening to their rich imaginary world, their aspirations, fears and joys. All aspects of the story, big and small, are being taken care of through a wonderful set, live singing and music, shadow theater, upbeat choreography and a sharp and funny text that suits children and grownups alike.
Duration: 55 minutes
Writing and design: Orit Bergman | Direction: Idit Herman | Choreography: Michal Herman | Costumes: Yaara Zadok | Set Manufacturing: Dmitry Tyulpanov, Sagi Schonwald, Yaron Bareli | Composition of Lola's Song and Soundtrack Design: Tsvi Peterkovsky, Yoni Tal, Dmitry Tyulpanov | Sound: Yoni Tal | Performers:  Spalax – Tsvi Peterkovsky / Joel Landshut, Lola – Rotem Nachmany / Nitzan Rangini-Botzer, Sheep – Kazuyo Shionoiri / Gal Levinson, Elephant – Zoya Bronshteyn
Press (Hebrew)
Review by Hila Aharon Brick, Habama
Interview with Orit Bergman, Haaretz