Afternoon + Evening with a Faun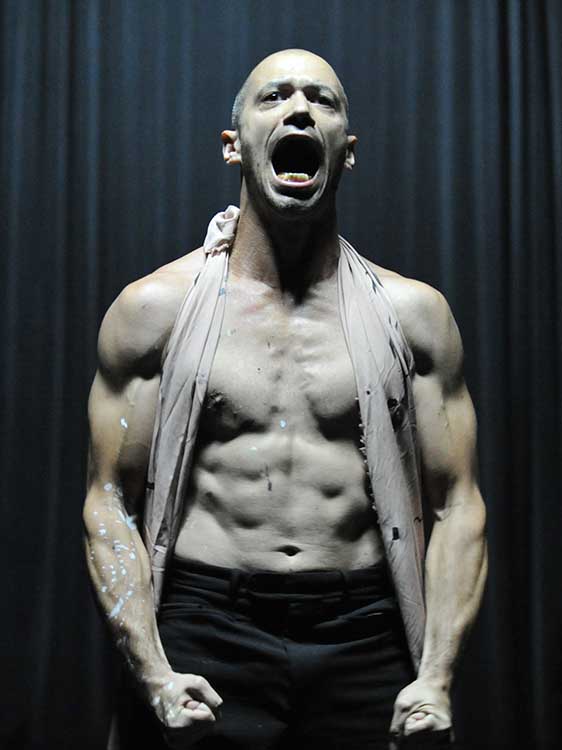 Afternoon + Evening with a Faun | Premiere: 2015, Clipa Theater, Tel-Aviv
"Precise movement presentation, mesmerizing and virtuosic show, like we have never seen before" – Maria Rosenfeld, Dance Life
"Afternoon + Evening with a Faun" is a daring personal clearance sale by Artour Astman. The solo crashes the idea of performative virtuosity, moving through regions of male sexuality and expanding the borders of the authentic and the fake.
The piece departs from Vaslav Nijinski's classic 'The Afternoon of a Faun' (1912), which was considered a provocation when it first premiered. Soon, Nijinski's biography gets interwoven with the performer's own: starting at the age of five, when he began performing as a professional dancer, through the unscrupulous boot camps of the Soviet ballet school, his emigration to Israel, where he worked as a stripper, became a reality TV-star and finally, decided to live as an artist.
As the afternoon of the faun turns into the evening, the audience gets increasingly involved in the performance and finds itself revisiting shadows and seductions of the past – stripping down to the most fragile layers. Astman's autobiographical auction presents a rare synergy between theatre, movement, visual arts and even culinary performance, where anything goes, no one can be innocent and everything has a price.
Duration: 60 minutes
For age 15 and up. 
Creator and Performer: Artour Astman | Artistic Direction: Idit Herman | Lighting Design: Yanir Liberman | Sound Design: Yoni Tal | Photography: Koby Mercury